Automobile Tailboard
SINOLIFT production of automobile hydraulic lifting tailboard is Europe's most popular five cylinder automatic balance system product at present, its hydraulic system has the relative position of intelligent memory function, make the operation simple, more safety. Products through the national authority certificate. Automobile tailboard, overall 80% parts for Europe imported such as: hydraulic motor assembly, the high pressure pipeline, oil tank, oil cylinder seals, button, etc. T he automation of logistics system with increasing, automobile tailboard in the adaptability of the various also more and more widely. Such as: paper,  print, electronic, hardware, mould, chemical industry, the financial (bank Securicor), postal, press(Guangzhou daily), public security ( eliminate explosive truck), transportation, communication (China unicom), etc. Well-known enterprises and government machinery are used my company's products, and reflect good.
General tailboard (including steel tailboard and aluminum alloy tailboard)
Automobile Tailboard:
Also named automobile lifting tailboard, automobile loading and unloading tailboard, hoisting tailboard and hydraulic automobile tailboard, it is hydraulic hoisting loading and unloading equipment installed on the tail of trucks and other vehicles and taking vehicle-mounted storage battery as power. The loading and unloading of trucks installed with tailboards are not limited by sites, equipment and manpower, even one driver can finish standard loading and unloading.  N brand tailboard has been widely used for postal service, finance, petrifaction, commerce, food, logistics, manufacture, paper products, transportation and other industries. It can greatly improve efficiency of transportation and loading and unloading and save the cost and is one of necessary devices for modern logistics transportation.
general tailboard (also named cantilever tailboard): The suspension support with five cylinders is installed and fixed on the girder at the tail end of the automobile through the hanger plate. By electrical control operation, the tailboard backward turns to the board level from perpendicular state, descends to the ground and downward inclines to the front end of the board and fit the ground. At the moment, the carriage door can be opened to conduct loading and unloading operation of trucks, and the whole process can be operated by one person. It is safe, rapid and convenient.
Steel Tailboard:
Characterized by a large carrying capacity and low failure rate; applied to various van trucks, open wagons and special transport vehicles of postal service, banks, and so on; the widely used structural form.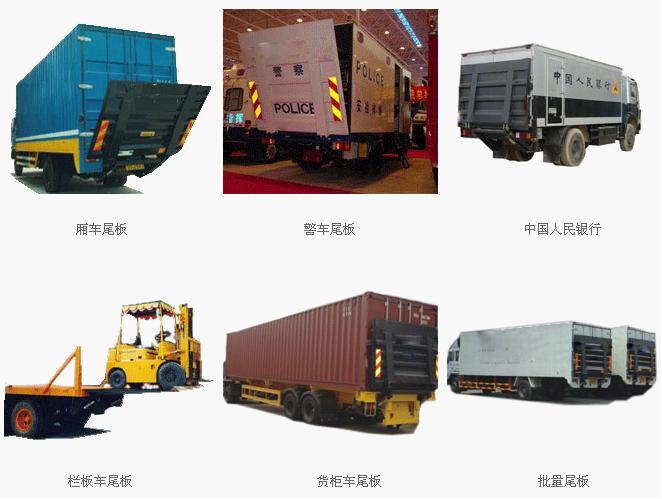 Aluminum Alloy Tailboard:
Characterized by light dead weight, high strength, good rust prevention, corrosion resistance and beautiful appearance, applied to light trucks, trucks for chemical industry, and so on.

The Advantages of Tailboard:
1.  tailboard is five-cylinder full automatic balance system product; the hydraulic system has intelligent memory function of relative positions, with more stable operation.
2.  The hydraulic station, seals, pipeline, electrical system and other main pieces of tailboard are fully imported from Sweden and Italy, ensuring high quality and excellent performances.
3.   tailboard has passed the certification of national grade authorities: Hanyang Special Purpose Vehicle Institute and Guangdong Province Product Quality Supervision and Inspection Institute, ISO9001:2000 certification and European CE Security Authentication.
4.  The quality of tailboard is guaranteed by Pacific Insurance Agency in China. Consultation Hotline: +86-755-95500
Technical Parameters of Lifting Tailboard
If you need to order tailboard, please provide the brand, tonnage and power supply of trucks, accurate data of B, D, E, H and L in the chart, cargo type and handling operation mode, so that we select the optimum tailboard model and specification for you.